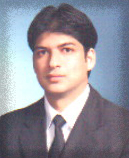 MUHAMMAD NOUMAN SHAMS
Head Corporate and Litigation
Muhammad Nouman Shams is an accomplished young achiever who joined the firm in 2005 with an unusual blend of business and legal knowledge and skills. He quickly gains the confidence of executive management in client companies by focusing on understanding and achieving business goals while helping minimize inherent legal risks.
Mr. Shams has assisted local and foreign business organizations of all sizes, and in all stages of growth, with their legal and business needs in Pakistan. His clients include Public companies as well as middle-market and start-up companies, with many of his clients being closely held businesses. These clients have been in a very broad range of industry sectors as diverse as Civil, Commercial, Banking, Insurance, Technology, Corporate, Telecoms, services. Clients quickly learn and appreciate that Mr. Shams is adept at gathering and assimilating information, analyzing complicated situations, identifying risks, and helping develop and implement an action plan to achieve a favorable result. In these endeavors he is backed by a broad range of legal and business knowledge and experience, superb writing abilities and oral presentation skills, as well as outstanding academic credentials.
He has also written various articles on diverse issues of law plaguing the legal system of Pakistan, for numerous law journals and his research work in the shape of books also been published, which is very much apreciated by the bar and bench as well. On his credit he has more then ten reported cases.Mr. Shams is a member of the British Pakistan Law Council & The British Pakistani Lawyers Forum.
Areas of Practice
Acquisitions, Business & Commercial Law, Civil, Contracts, Employment & Labour Law, Companies Law, Intellectual Property and Telecommunications.
Education
Bachelor of Commerce, Master of Science (Economics), Bachelor of Laws & Post Graduation in Intellectual Property Laws from University of the Punjab-Pakistan
Languages
English, Urdu and Hindko